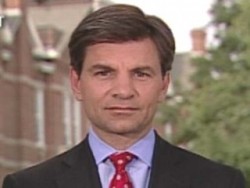 George Stephanopoulos stands in front of Old Main.
CONTACT: Lisa Lacher, 515-271-3119, lisa.lacher@drake.edu
ABC News is bringing two presidential debates to Drake University's Sheslow Auditorium and Sunday morning national television.
Both the Republican debate on Aug. 5 and the Democratic debate on Aug. 19 are to be moderated by ABC's George Stephanopoulos, with additional questioning from David Yepsen of The Des Moines Register. The debates are designed to spark conversation between the candidates

on the big issues.
"Drake University has long had a powerful commitment to serving as a place where the community comes together to address the vital issues of the day," said Drake University President David Maxwell. "It is an honor and a privilege for us to serve in this capacity on a national scale in hosting these two debates."
The debates begin at 8 a.m. Central Daylight Time and are to air across the country on ABC affiliates as a special edition of "This Week with George Stephanopoulos."
The Republican candidates confirmed for the Aug. 5 debate are: Kansas Sen. Sam Brownback; former New York City Mayor Rudy Giuliani; former Arkansas Gov. Mike Huckabee; California Congressman Duncan Hunter; Arizona Sen. John McCain; Texas Congressman Ron Paul; former

Massachusetts Gov. Mitt Romney; Colorado Congressman Tom Tancredo; and former Wisconsin Gov. Tommy Thompson.
Stephanopoulos was on campus Friday, Aug. 3, to help promote the Republican debate through live appearances on ABC's "Good Morning America" and "World News with Charles Gibson." ABCNews.com also has been soliciting questions from viewers for possible inclusion in the debate, which is expected to be covered by more than 150 journalists from across the country. ABC5 News in West Des Moines has scheduled a half-hour special analyzing the forum immediately following the debate.
"I think it's terrific that we are able to continue our 'On the Trail' series in Iowa with two live programs from a state crucial to the election process," said Stephanopoulos, anchor of "This Week" and ABC News chief Washington correspondent. "This is a historic election, and I look forward to bringing our viewers the first and only presidential candidate forums on Sunday morning television."
Drake graduates all over the world will have a chance to see their alma mater. The broadcast features locations in several University buildings in addition to the main forum site, the Jordan Stage in Sheslow Auditorium. The audience for the debates includes some of Drake's students, faculty and staff.