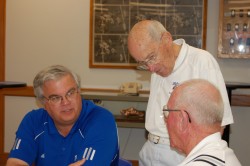 Paul Morrison, center, talks with Mike Mahon, left, and Don Cook during his 90th birthday celebration on July 25.
Paul Morrison, also known as Mr. Drake, celebrated his 90th birthday July 25 with his Drake family. The 1939 Drake graduate has been working with the University for more than 60 years.
"I don't feel like I'm 90," Morrison said. "My philosophy has always been that I will stay as long as I can or until I become a burden."
After the crowd of more than 50 people sang "Happy Birthday," Morrison said, "Let's do it again next year."
Sandy Hatfield Clubb, athletic director, recalled moving to Drake and attending Morrison's 89th birthday. She thanked Morrison for being an icon for Drake and a model of leadership.
"Paul is such a unique man. He is great to work with," Hatfield Clubb said.
President David Maxwell and Mrs. Madeleine Maxwell are planning to plant an oak tree this fall in his honor and put it on campus "so he can see it for the next 90 years," they wrote in a letter.
Morrison's dedication to the University shows through all that he does, said Brett Saddoris, director of marketing and promotion for athletics.
"Paul is the last one to say he needs a celebration like this," Saddoris said. "He earns this every day. He has worked so hard. He is a bulldog through and through. He is an asset to Drake. Every company should have a Paul Morrison."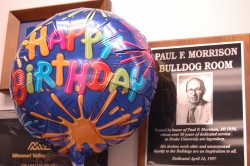 Balloons and flowers decorated the Paul F. Morrison Room, where the celebration was held.
A larger celebration for Morrison is being planned during homecoming weekend this year, Oct. 5-6. Hatfield Clubb said that weekend was chosen to provide alumni with an opportunity to join faculty, staff and students in honoring Morrison.
Morrison started his career at Drake in 1945 after serving in the Army. He has served as the director of the Drake news bureau, sports information director and as athletics business manager. Morrison's formal retirement was in 1986, but he has volunteered for the athletics department since the day after he retired.
Morrison has served on the Relays executive committee since 1946, working as the committee's chairman in 1968. He has been honored at Drake by having a room in the Bell Center and a scholarship fund for journalism students, who are also athletes, named after him. Morrison is also honored annually at the national convention of the College Sports Information Directors of America, of which he is the oldest member. In 1996, he received a Drake chair in recognition of his 50 years of service to the school.