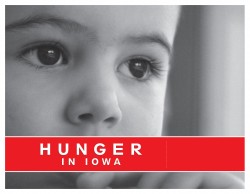 CONTACT: Susan Roberts, 515-965-3859 or 515-480-5898, susan@susan-roberts.net;

Lisa Lacher, 515-271-3119, lisa.lacher@drake.edu
An increasing number of Iowa families are going hungry, according to a new report by the Drake University Agricultural Law Center. In addition, the report connects a lack of healthy food options and obesity in low-income households.
The 2007 Hunger in Iowa Report shows more Iowans are skipping meals or eating cheaper and less healthy food because of food scarcity, as compared with data from reports released in 2001 and 2003. The entire report can be downloaded from this Law School Web site.
"Every report has shown that we have hunger in Iowa, and that it's getting worse instead of better, even though nationally we're seeing the opposite," said Susan Roberts, author of all three Hunger in Iowa Reports.
Data compiled in the reports, collected by federal agencies, shows a rise in the number of Iowa households with "low" and "very low" food security. Both classifications indicate that some or all members of the household lack "access at all times to enough food for an active, healthy life." Individuals in households with "very low" food security also experience the uneasy or painful sensation caused by a lack of food.
The 2007 report shows approximately 11 percent of Iowa households had "low" food security in 2003-2005, as compared to eight percent in 1996-1998. The data also show a 0.9 percent increase in the number of households with "very low" food security, from 2.6 percent to 3.5 percent.
The report also shows a link between obesity and "low" or "very low" food security classifications. "This paradox of hunger is likely due to the fact that food insecurity leads to eating fewer health promoting foods because of their expense," the report reads.
The Iowa Special Supplemental Nutrition Program for Women, Infants and Children (WIC) conducts periodic surveys to determine the degree of food security among Iowa WIC participants. Of 3018 WIC participants surveyed, 26.3 percent had "low" food and 17.4 percent had "very low" food security. In addition, "A large percentage (57 percent) was overweight or obese."
Lack of access to healthy food is another driving force behind households with low food security. The 2007 report identifies several Iowa "food deserts," or areas where supermarkets and other sources of quality food are limited.
"For many Iowans, their only access to food is a gas station. That's not health-sustaining food. It's a problem in inner cities as much as in rural areas, where people have to travel a long distance to buy groceries."
Roberts said Iowa's current hunger-combating programs aren't going far enough. "Food stamp programs are reaching more people than they used to reach, but we just don't have enough policies or programs to take care of the hunger problem."
The 2007 report recommends 12 policies that would promote a healthy food environment for Iowans, including an increase in community gardens and farmer's markets, the development of mobile food pantry programs and the implementation of universal school breakfasts in schools where more than 40 percent of students receive free and reduced-cost meals.
According to Roberts, the Hunger in Iowa report is aimed primarily at legislators and administrative policymakers. "Policymakers at the local and state levels should use it as a tool to decide what can be done to address this hunger problem."
Roberts has a law degree specializing in food and agricultural law from the Drake University School of Law. She also has a bachelor's degree from Iowa State University in food and nutrition and a master's degree from the University of Iowa College of Medicine.
The report was co-written by Erin Feld, a clinical dietitian at Iowa Health System – Des Moines, as part of her internship project while obtaining her master's degree in public health at Des Moines University. Feld holds a bachelor's degree from Iowa State University in dietetics.
Drake's Agricultural Law Center, founded in 1983, is an internationally recognized center that provides opportunities to study how the legal system shapes our food system and influences the ability of the agricultural sector to produce, market and utilize agricultural products. The Center supports an array of courses, publications, conferences, research initiatives and created a certification program in food and agricultural law.