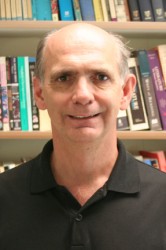 CONTACT: Lisa Lacher, 515-271-3119, lisa.lacher@drake.edu
Joe Lenz, professor of English and chair of the English Department at Drake University, has been named interim dean of Drake's College of Arts and Sciences, effective Aug. 1. Lenz will succeed John Burney, who has been appointed to the new position of associate provost for curriculum, faculty development and assessment.
"Joe Lenz's stellar work as chair of the English Department and in a variety of other assignments means that he has earned the strong respect of the College of Arts and Sciences faculty," Drake Provost Ronald Troyer said. "I am confident that he will be an outstanding interim dean and look forward to working with him."
Lenz, who holds a Ph.D. in English from the University of Illinois, taught at the University of Michigan before joining Drake in 1982. He has chaired the English Department since 1992. His teaching and writing focus on Shakespeare, early modern writers, the romance genre, law and literature as well as literary criticism. He has created more than a dozen courses, including two seminars for first-year students and a Shakespeare course that he teaches entirely on the Web.
In addition, Lenz has served on numerous college and university committees and was acting director of the Law, Politics and Society program last year. He is vice chair of the University's Self-Study Committee on Preparing for the Future, which is addressing requirements and criteria for accreditation set by the Higher Learning Commission of the North Central Association of Colleges and Schools.
"I am honored by the support my colleagues across the college have shown me, and hope I can repay that support by continuing John Burney's many initiatives," Lenz said. "I look forward to working with them, the Provost's Office and the other deans during what will be an exciting year for Drake."
With 120 full-time faculty and 1,304 students, the College of Arts and Sciences is the largest of Drake's six colleges and schools.