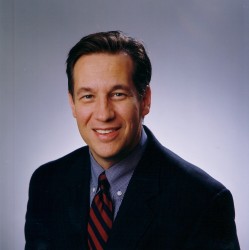 Mark Ernst, BN'80
Mark Ernst, BN'80, chairman, president and CEO of H&R Block Inc., will be the keynote speaker at the College of Business and Public Administration's annual Business Day Banquet. This speech is titled "Can Businesses Do Well and Do Good?" The dinner will start at 6 p.m. Wednesday, April 11, in Parents Hall, Olmsted Center.
Ernst, who joined the company in 1998, is responsible for developing and implementing a long-term strategy for the company that strengthens the H&R Block brand and builds on the company's history of service to clients. Over the past five years, the company's annual results have achieved rankings in the top 10 percent of all companies in the S&P 500 for financial performance.
Under Ernst's leadership, H&R Block has sharpened its strategic focus on increasing the value that its tax professionals bring to their client relationships; moved forward with its mission to become its clients' tax and financial partner; strengthened its senior management team by hiring executives with the expertise needed to offer clients a wider range of financial services; and brought more discipline to its planning processes.
H&R Block and its subsidiaries offer a full range of tax, financial and mortgage products and services, including personalized financial advice about retirement savings, home ownership and other opportunities to help clients build a better financial future.
A native of Bellevue, Iowa, Ernst received his bachelor's degree in business and accounting from Drake in 1980, has an MBA from the University of Chicago Graduate School of Business and is a Certified Public Accountant.
Other speakers to visit the CBPA during the 2006-07 academic year include: Cara Heiden, division president, national and consumer lending at Wells Fargo Mortgage; Susan Schmidt Bies, Board of Governor at the Federal Reserve System; William R. Berkley, CEO and president of W.R. Berkley Corp.; Larry Zimpleman BN'73, GR'79, president of Principal Financial Group; and Tom Vilsack, former governor of Iowa.