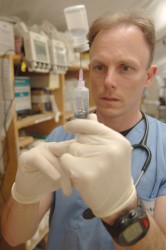 Maj. Derek Speten, a 1997 Drake graduate, prepares a hypodermic needle to draw life-sustaining antibiotics for an incoming trauma patient in the Air Force Theater Hospital emergency room at Balad Air Base, Iraq.
CONTACT: Katie Knorovsky, 515-271-1834, katie.knorovsky@drake.edu
Service members being wheeled headfirst into the Air Force Theater Hospital emergency room in Iraq shouldn't be surprised if the first person they see is Maj. Derek Speten, a 1997 graduate of Drake University and president of the Society of Air Force Pharmacy.
Deployed from Scott Air Force Base, Ill. and a native of Peoria, Ill., Speten serves as 332nd Expeditionary Medical Group pharmacy flight commander and clinical pharmacist provider at the only level 3 trauma center in Iraq. He spends every day working in trauma medicine, rooted in one simple mission: saving lives.
"Every person runs to the aid of someone who comes through those doors, because they feel personally responsible for their life," Speten said. "Right here — this is the closest most will ever get to critical care pharmacy."
Of all the people who are wheeled through those doors, 98 percent survive and are eventually discharged. "Seeing people survive and get healthier gives us a sense of accomplishment," he said, waving to an Iraqi boy in the ward. "Some people don't remember us after being rushed into the ER, but some do — they realize we're the ones who helped them with their pain."
Speten said that when he was a Drake pharmacy student, pharmaceutical care was a new part of the curriculum. "It allowed the pharmacist to have a more elaborate relationship with the patient, allowing them to provide much more than the standard of what most pharmacists were doing at the time," he said. "By learning this at Drake, I knew I wanted a much more involved role with my patients when I became a pharmacist."
During his last year as a student, he met clinical pharmacists through his rotations experience and discovered that clinical pharmacy was the field he wanted to pursue. An infantry officer in the Army during college, upon graduation he transferred to become a pharmacist for the Air Force. He continued his education in the Air Force and received his master's degree and doctor of pharmacy and completed two residencies in pharmacy practice and ambulatory care. Soon after, he headed to Iraq for his current post.
His pharmacy filled 23,706 prescriptions for inpatient, outpatient and over-the-counter medications in January alone. With a staff of eight responsible for 24/7 operations, it's a fast-paced environment where urgency is everything and there is no room for error.
Speten attributes his success to his training at Drake. "The education that I received in pharmacy school at Drake prepared me professionally for what I have to face in Iraq every day," Speten said.