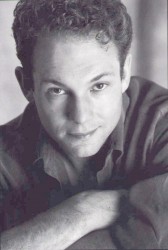 Philip Lehl
Broadway actor and Des Moines native Philip Lehl, FA'86, will return to Des Moines this month in a special production of Doug Wright's "I Am My Own Wife," winner of the Pulitzer Prize for Drama and Tony Award for Best Play in 2004.
Presented by Des Moines' StageWest Theatre Co. in association with Houston's Stages Repertory Theatre, "I Am My Own Wife" begins March 23 at the Civic Center's Stoner Theatre, 221 Walnut St.
Lehl grew up in Des Moines and graduated from Roosevelt High School and Drake, where his late father, Alan, was a professor of music. He continued his education at The Juilliard School in New York City, graduating in 1990.
"I have a huge regard and affection for Des Moines, so it feels wonderful to come and do my second production with StageWest," Lehl said. "I've fantasized about moving back and probably would if I thought I could make a decent living as a stage actor. Doing this production is the next best thing."
During the early 1990s' Broadway run of the Willy Russell musical "Blood Brothers," Lehl took over the starring role of Mickey from Tony nominee Con O'Neill. He also played 14 different parts in Robert Schenkkan's Pulitzer Prize-winning six-hour play, "The Kentucky Cycle."
In recent years, Lehl has made appearances in TV series (everything from dramas such as "Martial Law" and comedies such as "The Nanny" to the quirky "Hollywood Off-Ramp") and in touring Broadway shows ("Titanic"). Most recently, he has performed frequently in Houston — where he currently resides — at the acclaimed Alley Theatre and Stages Repertory Theatre.
Now he's sinking his considerable acting chops into one of the most formidable challenges any actor could take on: the more than 40 characters that populate Wright's one-man show.
Primary among the characters Lehl plays in the astonishing true story of "I Am My Own Wife" is Charlotte von Mahlsdorf, a German cross-dresser and celebrated antiques dealer who somehow survives under Nazi and Communist regimes. In later years, she was hailed as a cultural hero but also reviled by those who accused her of collaborating with the Soviet secret police. Playwright Wright is the other major character in his play as he attempts to separate fact from fiction in Charlotte's remarkable life.
In an unprecedented collaboration between StageWest and Stages Repertory Theatre, the production will be performed in Houston in April and May, following its initial run in Des Moines. The director, Alex Harvey, is from New York, and the design team is made up of staff from both theater companies.
Des Moines production dates for "I Am My Own Wife" are March 23-25, March 28-April 1 and April 4-7. Show times are Wednesdays and Thursdays at 7:30 p.m., Fridays and Saturdays at 8 p.m. and Sundays at 3 p.m.
Tickets are on sale at the Civic Center's Ticket Office or through Ticketmaster, 515-243-1888; or online at www.civiccenter.org. Ticket prices are $11 for Wednesday performances, $16 for Thursday and Sunday and $18 for Friday and Saturday.