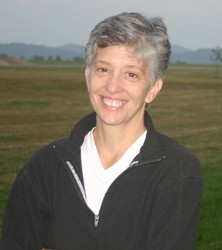 Neenah Ellis, FA'81
Renowned NPR journalist to speak at Drake March 27
Nationally renowned journalist and author Neenah Ellis, FA'81, will be the featured speaker at the Live! @ the Drake Library Series on Tuesday, March 27. Ellis will share highlights of her career at 7 p.m. in the Cowles Library Reading Room. A reception will follow. All library events are free and open to the public.
Ellis began her broadcast career working as a teenager at her parents' radio station in Valparaiso, Ind. After earning her bachelor's degree from Drake, she spent much of her professional career at National Public Radio. She also has been a freelance reporter and producer for the Discovery Channel, the National Park Service and the United States Holocaust Memorial Museum. While working for the museum, she produced a 10-year oral history project.
Her first book, "If I Live to Be 100: Lessons from Centenarians," was published in 2003 and quickly became a bestseller. The project, which developed from a 2000 NPR series, had Ellis traveling across the nation recording interviews with and about centenarians. Her recent projects include researching original sources and conducting interviews about one-room schoolhouses.
Ellis' work has earned her three George Foster Peabody Awards, the Radio-Television News Director's Edward R. Murrow Award and the Alfred I. DuPont Columbia University Award.
For more information about Ellis' presentation at Drake, call 515-271-3994 or e-mail susan.breakenridge@drake.edu.