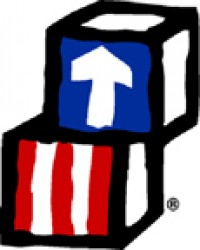 Drake garners literary achievements as birthday presents
Drake Head Start continues its 30th anniversary, and the program has plenty to celebrate. In 2006, Drake Head Start received a few especially nice birthday presents, racking up literary achievements with awards and grants both locally and nationally.
• Recipient of RIF Program Excellence Honors 2006, an award sponsored by MetLife Foundation and selected by Reading Is Fundamental Inc., the nation's oldest and largest children's and family literacy nonprofit group. Out of approximately 4,600 RIF programs nationwide, Drake University Head Start was among 25 programs recognized for their commitment to children's literacy in a national awards ceremony during a visit to Washington, D.C., last summer.

• Selected for the National Head Start Literacy Center's SPARC Family Literacy Leadership Training as one of two programs from Iowa and only one of eight programs in the region. This training will continue over the next four years and focuses on child literacy development, parent literacy development, parent leadership in their children's education, and parents' active involvement in their children's literacy development. "This program will bring together the Drake Adult Literacy Center and the Early Head Start and Head Start programs to create a unique family literacy program for the community," said Georgia Sheriff, director of Head Start. "We are honored to have been selected and look forward to having University students and faculty involved in this effort."

• Recipient of several First Book awards. First Book is an international nonprofit organization that aims to give children from low-income families the opportunity to read and own their first new books. The primary goal of First Book is to work with existing literacy programs to distribute new books to children who have little or no access to books due to economic reasons. Drake Head Start received more than $700 from the International House of Pancakes through the First Book program and an additional $500 from First Book to assist with the purchase of more literacy materials.
In addition, Drake Head Start received donations of more than 400 books and stuffed characters from the Ankeny Kohl's store and a grant from the Ankeny Target store to provide literacy kits to families in the Ankeny Head Start program. The Senior project conducted on campus in February, "Give Your Heart to Head Start," donated items for school kits that will go to children and their families.
Drake University Head Start is a comprehensive preschool program for children ages 3 and 4 and their families. Early Head Start serves pregnant women, infants and toddlers and their families. More than 1,000 children and their families are served by Drake University Head Start, which operates 38 programs in six central Iowa counties — Polk, Boone, Warren, Marion, Jasper and Story.
The programs incorporate health, mental health, nutrition, education, family involvement and parent governance. All families are welcome to apply to Drake University Head Start, although priority is given to families with incomes at the poverty level or below.