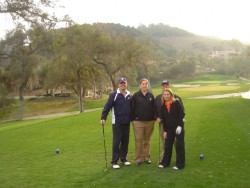 Alumni, students enjoy golf in southern California



Craig Vercoe, AS'92; Drake assistant golf coach Leanne Smith; Martin Brown, AS'71; and Megan Brown were among the Drake alumni, friends, students and athletics staff who enjoyed golf and good company at the Pala Mesa Resort in Fallbrook, Calif., on Feb. 10. Participants played 18 holes in a scramble format.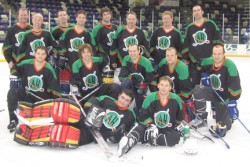 Alumni score back-to-back gold medals
For the second consecutive year, two Drake alumni — George A. Clark, JO'77, and John White, PH'98 — won the gold medal in men's ice hockey at the annual winter Iowa Games in Cedar Rapids this past Feb 10-11. "To win the gold, we had to beat a team from UNI — their oldest player was 23," Clark said. Pictured in the back row, second and third from the left, are Clark and White.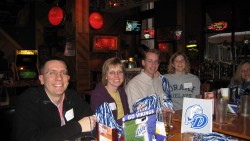 Twin Cities alumni gather with the Swarm
Loren Danielson, BN'95, Christine Danielson, BN'95; John Woodford and Rachel Brink-Woodford, JO'99, gather prior to a Minnesota Swarm lacrosse game on Feb. 18, an event hosted by a new Twin Cities Drake Alumni Chapter. The chapter's next event will be a Bulldog Bash on Thursday, June 14, at Champps Downtown. For more information or to get involved with the Twin Cities Alumni Chapter, contact Nick Hugunin, BN'82, at nhugunin@lblco.com.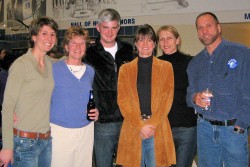 Elite Eight reunite at Drake
Alumni of Drake women's basketball teams, including members of Drake's 1981-82 "Elite Eight" team, reunited on campus March 3. From left: Lisa Brinkmeyer Van Deventer, JO'97; Laura Leonard, ED'83; Ted Van Deventer; Connie Newlin, AS'82; Jan Krieger, ED'82; and Bruce Kittle.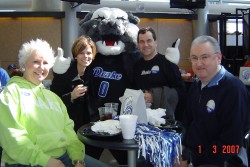 Drake fans cheer on the Bulldogs at Men's MVC Tournament
Drake men's basketball fans reveled in the Bulldogs' victory over Evansville in the play-in game of the Missouri Valley Conference Tournament on March 1 in St. Louis. The 'Dogs put up a good fight — but losing battle — the next day against Southern Illinois. Fans at the pre-game party on March 2 included, from left: Deb Snider, ED'73; Angie Anthony; Drake mascot Spike; Mark Anthony, AS'87; and Mark Snider, BN'72.