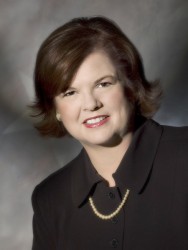 Jennifer Fix, PH'85, GR'86
The American Pharmacists Association (APhA) has announced that Jennifer Fix, PH'85, GR'86, is the recipient of the 2006 APhA Good Government Pharmacist-of-the-Year Award. The award will be presented during the APhA Annual Meeting and Exposition to be held March 16-19 in Atlanta.
Established in 1990, the award recognizes an individual pharmacist who actively contributes to the community through his or her voluntary involvement in the political process. Nominees must be active members of APhA, a state pharmacy association, and must have raised pharmacists' awareness of the political process, improved the pharmacy profession and the political process, as well as improved service and education to the public.
Fix, of Burleson, Texas, is currently president of Jen-Rx Inc. and owner of the Medicine Shoppe Pharmacy in Haltom City, Texas. Former president of the Texas Pharmacy Association, Fix was selected for the award in recognition of her activities on behalf of the pharmacy profession, including her initiation of legislation in Texas for prompt payment by all third-party providers. The legislation called for payments within 21 days of a clean claim of submission. The bill, which was passed and signed into law in May 2003, has benefited pharmacies, pharmacists and patients across the state of Texas.
"Jennifer Fix is an excellent pharmacist, a great community leader and an outstanding legislative advocate for pharmacists and the people they serve," said Texas Sen. Leticia Van de Putte. "She is a tireless advocate for pharmacists, and the effects of her advocacy are widely noted in the private and public realm."
Fix has testified numerous times in front of legislative committees on unfair third-party Medicaid audits, mail order parity, regulation and transparency. During her presidency at the Texas Pharmacy Association, Fix was instrumental in leading the opposition to prescription drug importation, emphasizing its dangers while urging patients to seek advice from their local pharmacists before considering importing their drugs.