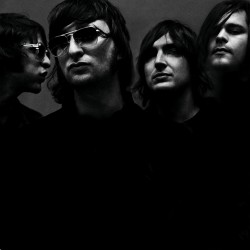 Jet
Who says there's no reward for doing good? There is for students of Drake University and other universities, colleges and high schools who can verify that they've volunteered 10 or more hours in the past year. The reward: a concert by Australian band Jet on April 11 at the Drake Knapp Center.
It's all part of the 10,000 Hours Show, a project to recruit and reward community volunteers by producing a concert for which admission is volunteer service. Now in its fourth year, the project has featured such popular rock acts as Ben Folds, Guster and Cake. This year, for the first time, the 10,000 Hours Show is being produced jointly by the Drake University Student Activities Board and the 10,000 Hours Show of Central Iowa.
Drake University, Iowa State University and United Way of Central Iowa are partners in the 10,000 Hours Show of Central Iowa. Student volunteers at Drake and Iowa State run the organization. Drake students Rachel Manuel is executive director of business, Megan Hill is executive director of outreach and Michelle Howard is director of university relations for central Iowa.
To gain admission, college and high school students register online and perform a minimum of 10 hours of community service for a participating nonprofit organization by April 1. A representative from each participating organization will provide a list of volunteers who qualify for admission. Students will have their photo IDs checked against a master list of qualified volunteers to gain admission to the concert.
Jet's first album, "Get Born," was released in 2003 and sold more than 3.5 million copies worldwide. The band received Best Rock Video at the 2003 MTV Awards for its popular hit, "Are You Gonna Be My Girl."