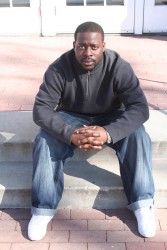 Robert J. Johnson, a first-year student from Chicago
CONTACT: Robert J. Johnson, rjj002@drake.edu;

Lisa Lacher, 515-271-3119, lisa.lacher@drake.edu
Robert J. Johnson likes to say that God's taken him from the "guttermost to the uttermost." Well… not quite to the uttermost. He's got big dreams; the name of his hip-hop radio show attests to that. He and co-host Kirby Weber, both first-year students at Drake University, call their show, "The Young Legends Not Yet but Soon to Be." Every Friday night and Saturday morning on the campus station KDRA "The Dog," they talk about tough issues like AIDS, black history, youth depression and suicide, drawing listeners of all ages, races and social positions. But there's one issue that Johnson is particularly well versed in, and this March he'll have the opportunity to discuss it with a much more powerful audience.
Johnson has been asked to speak on a panel at a forum titled "Promote Permanent Families: Reform Foster Care Now," which will be held Monday, March 12, in Washington, D.C. The purpose of the forum is to inform members of Congress, their staff members, child welfare professionals, adoptive and foster parents, and the public about how federal financing adjustments could help move children quickly from foster care to safe, permanent families, or to avoid foster care in the first place.
Johnson will speak as an advocate for the national availability of subsidized guardianship. He'll meet with Sen. Barack Obama and other important political figures, hoping to convince them that children who have been removed from their homes should have the opportunity to be reunited with family members. (He also hopes to schedule them as guests on his radio show.)
He says a few common arguments against subsidized guardianship are that children will be emotionally harmed by remaining with their family and that there's "no justice" in it. He tends to disagree.
"Every child is different," Johnson said, "but the subsidized guardianship program should be available to every kid who wants to go into a family situation." In Johnson's experience, it worked out for the best.
This is his story:
Johnson grew up on the south side of Chicago until the age of six, when he and two of his sisters were removed from their mother's custody. The children were placed in the temporary custody of Johnson's godparents, who lived in Gary, Ind. They treated the children, as Johnson describes, "not well at all." The Illinois Department of Children and Family Services quickly had the children removed and placed under the permanent legal custody of their aunt in Chicago. It was one of Illinois' first cases of subsidized guardianship.
Under subsidized guardianship, a family member or other adult is made the permanent legal guardian of children. But unlike adoption, the birth parents often do not lose rights such as visitation. His aunt cared for them like a second mother, Johnson said, and living with her was more than preferable to the alternatives of being placed in a foster home or in the custody of a stranger.
"If my aunt didn't take us, I don't even want to think about what would have happened," Johnson said.
Despite finally being in a stable home, his grades were suffering. "When I returned to Chicago I wasn't doing well in school and everyone thought that I wasn't going to graduate from eighth grade," he said. "But, I was blessed." A program called Boys Hope Girls Hope took him under its wing and paid for his tuition at Loyola Academy, a private college preparatory school located just outside of Chicago. He went to school with Michael Jordan's sons, Jeff and Marcus, who play basketball at Loyola. He lived in the dorms, studied hard and excelled.
When Johnson was accepted to Drake University, Boys Hope Girls Hope leader and Drake Board of Trustees member Rudy Trebels offered him a full, four-year scholarship to the University. Johnson was the first student to receive the scholarship. He plans to major in general business and earn a minor in communications or religion.
He aims to blow the lid off the Des Moines hip-hop market. To keep discussing the hot-button issues.
And, thanks to this upcoming D.C. trip, maybe even help move some legislation.