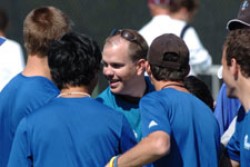 Head Coach Chase Hodges
The Drake men's tennis team has added another milestone to its resume as the Bulldogs ascended to No. 53 in the latest rankings the Intercollegiate Tennis Association (ITA) unveiled this week. The ranking is the highest in school history, surpassing the 1992-93 squad, which rose as high as 64th in the then NCAA Rankings.
"This is a great honor to achieve the highest ITA national ranking in school history," Drake head coach Chase Hodges said. "We are having a great year and I'm very proud of my guys for the hard work and dedication that they have exhibited up to this point in the season. We do have to remember that this is a long season and we want to finish strong and be playing our best tennis in April and hopefully in May."
The Bulldogs have rolled off nine consecutive victories and stand at 10-2 after victories over No. 65 Iowa, Northern Illinois and Graceland University last week.
Drake faces another challenging test Saturday, March 10, traveling to Lincoln, Neb., for a showdown with No. 48 East Tennessee State. The match is slated to begin at 10 a.m.