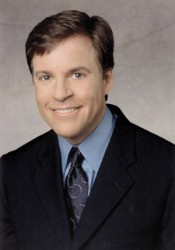 Bob Costas
Bob Costas, an accomplished broadcaster and author, will deliver this spring's Martin Bucksbaum Distinguished Lecture at 7:30 p.m. Thursday, April 19.
The lecture, which is free and open to the public, will take place at the Drake Knapp Center. A reception and book signing will follow.
A 19-time Emmy Award winner, Costas has anchored television coverage of seven Olympic Games and was primetime host at the 2006 Winter Games in Torino, Italy. He also has participated in the broadcast of virtually every major sports event from the Super Bowl to the NBA Finals to the World Series. He has been honored as Sportscaster of the Year by the National Sportswriters and Sportscasters Association a record eight times.
Costas, a 27-year veteran of NBC Sports who joined HBO Sports in 2001, hosts HBO's "Costas Now" and is co-host of HBO's award-winning football program "Inside the NFL."
He is noted for his passion for baseball, and his book, "Fair Ball: A Fan's Case for Baseball," spent several weeks on The New York Times bestseller list in 2000. He also was the narrator for the books and audio package "And the Crowd Goes Wild" and "The Fans Roared," both of which made The New York Times bestseller list.
The Martin Bucksbaum Distinguished Lecture Series is made possible by a gift from Melva and the late Martin Bucksbaum, former chairman and president of General Growth Corp. and longtime member of Drake's governing board.
For more information about the lecture, call 515-271-3994 or send an e-mail to susan.breakenridge@drake.edu.