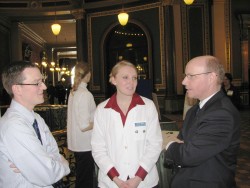 Erik Maki, assistant professor of pharmacy practice, and pharmacy student Kayla Hatt spoke with State Sen. Steve Warnstadt from Sioux City at last month's annual Iowa Pharmacy Association's Legislative Day.
Pharmacy students advocate legislative power
Schmoozing with legislators isn't usually on a pharmacy student's to-do list. But at last month's annual Iowa Pharmacy Association's Legislative Day, Drake pharmacy students devoted a day to discussing health care legislation with Iowa state representatives.
The daylong program, which offered lectures from professional pharmacists and lawmakers about the latest pharmaceutical issues, encouraged students to show off their classroom knowledge to legislators.
"It introduces students to the issues in the [pharmacy] profession and exposes them to how legislature affects current practice," said Erik Maki, practicing pharmacist and assistant professor of pharmacy practice.
The 2007 program, which featured presentations from Rep. Pat Murphy, D-Dubuque, and Sen. Jack Hatch, LA'72, D-Des Moines, was warmly received by the 96 registered pharmacy students from Drake. Throughout the afternoon, students provided bone density, blood pressure and blood glucose screenings to Legislative Day participants, which gave them an exclusive avenue to demonstrate their impact on health care policy and practices.
"It's a great opportunity for students to see how pharmacy practices influence legislation," said Kaytee Schiavo, a P4 from Chicago. "It's a way for us to see how practicing pharmacists are influencing legislation and advancing the profession."
Lori Schirmer, assistant professor of pharmacy practice, said Legislative Day helps give pharmacy students a voice in the political aspect of pharmacy. "We have to speak up and be the advocate for our patients for the legislation that will affect both their lives and our ability to help them."
She said she hopes pharmacy students will use their experiences from Legislative Day to become active leaders in the pharmacy profession and that lawmakers will turn to pharmacists for new legislation about health care.
Kayla Hatt, a P3 of Ankeny, echoes the sentiment. In fact, she's so passionate about policy issues that she's taken it upon herself to set up lunch-n-learn sessions for fellow pharmacy students. "My intent with these programs is to help students begin this process now so that when they are in practice they can be more prepared and aware of the changes that are taking place and the responsibility they have to advocate for their profession," Hatt said. "I want students to gain experience and become more comfortable with questioning legislation and challenging it when it can have a negative impact on the profession."
The first session included a history of the legislative system, including its structure and how a bill becomes a law. Subsequent sessions will present a state or federal bill, highlight its importance for pharmacy and discuss ways to lobby for actions in favor of pharmacy.