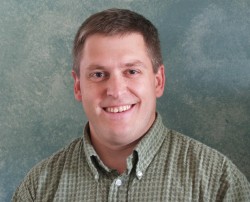 Travis Thompson
Travis Thompson, vice president of operations for the Edge Business Continuity Center in Altoona, will discuss business continuity and disaster recovery at Drake's Let's DU Lunch speaker series at noon Wednesday, March 14, at the Polk County Convention Complex, 501 Grand Ave.
The Edge Business Continuity Center is a joint venture between LightEdge Solutions, Ladco Development and LBC Technology. Jim Masterson, chairman and CEO of LightEdge, had been scheduled to speak at the lunch, but will not be available due to a change in his travel schedule.
Thompson is responsible for all aspects of the $12 million Edge Business Continuity Center, which is housed in a $12-million building built to exacting specifications for security and weather resistance. He oversees a 24/7 network operations staff that monitors and maintains the data center and ensures the disaster recovery workspace is prepared and ready in the event of a customer event declaration.
Let's DU Lunch, which is co-sponsored by the Greater Des Moines Partnership, is open to the public. Craig Armstrong, vice president and general manager of Iowa Speedway, will conclude the spring series Wednesday, April 4.
Cost is $15 per lunch. Networking begins at 11:30 a.m. with lunch and speaker from noon to 1 p.m. Due to limited seating, reservations are recommended.
For more information or to make a reservation, contact the Drake Office of Alumni and Parent Programs at 515-271-3848 or dottie.johnson@drake.edu.