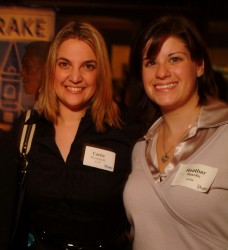 Carrie Blumenfeld, JO'00, socializes in Chicago with Heather Basofin, JO'04, one of the former students she mentored.
Drake Blue is on its way to you
The spring edition of "Drake Blue" magazine is scheduled to hit mailboxes in early April. Learn how Drake students are getting ready for the business world; read the latest news about campus; and check the alumni calendar for upcoming events.

Mentoring: a win-win experience for students, alumni
Mentoring Drake students and fellow alumni is a wonderful and rewarding way to give back and "pay it forward." One option is Drake's new Career bluePrint "Be A Mentor" program, which connects alumni with Drake students via activities including e-mail networking, mock interviews, job shadowing and resume critiquing. Alumni mentors get to define how they want to work with students and the time commitment involved.
To register as a mentor, visit www.drake.edu/alumni and click on the "Career Network" left-hand link.
Drake's Alumni Career Exchange program (ACE) is another mentoring opportunity. The program matches students with alumni in their field of interest for a day or half-day of job shadowing, typically during winter break. Carrie Blumenfeld, JO'00, is a dedicated ACE mentor and an account director with Wunderman, a customer-focused marketing communications agency with offices in Chicago and worldwide.
"I feel that ACE is a wonderful program for both students and alumni to participate in," she said. "Through career-matching, I am matched with students interested in entering the advertising/marketing industry, and each are invited to spend a half-day with me at the agency."
That visit typically consists of:
an agency tour that gives the student an opportunity not only to see an agency work environment, but also to sample creative work spanning a variety of clients and brands
a one-hour informational interview about the roles and functions within an agency, tips for interviewing/job searching, and a mock interview
a cross-functional meet-and-greet that allows the student to meet and question individuals from various disciplines within the agency.
"I strive to provide each student with an informative experience, but ACE has also been a wonderful way for me to meet driven students and soon-to-be grads," Blumenfeld said. "It's just as much an opportunity for them to hopefully learn from me as it is a way for me to meet young talent and potential future hires."
For more information on becoming a mentor by registering online or participating in ACE, contact Kelli Turner, assistant director of alumni and parent programs, at kelli.turner@drake.edu.
Congratulations to 2007 alumni award winners
The Drake National Alumni Association will honor five alumni for their accomplishments and contributions to Drake and society at the Annual Alumni Awards Dinner on Saturday, May 12, in Parents Hall, Olmsted Center.
Congratulations to the following individuals:
Jonathan Azu, BN'99, Young Alumni Achievement Award
Vinaya Sharma, BN'93, Young Alumni Loyalty Award
Charla Lawhon, JO'78, Alumni Achievement Award
William "Bill" Buchanan, BN'57, Alumni Loyalty Award
Betty Grandquist, LA'74, Distinguished Service Award
Read more about these fine alumni in an upcoming issue of eBlue!