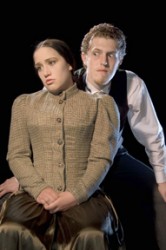 Starring in Drake's production of "Gaslight" are Rebecca Gebhart, a junior musical theatre major from New Hope, Minn., and Jack Sharkey, a sophomore acting major from Iowa City, Iowa.
CONTACT: Lisa Lacher, 515-271-3119, lisa.lacher@drake.edu
In a dark old house in Victorian London, supernatural occurrences are driving Bella Manningham insane. Objects disappear, footsteps haunt the attic floor and the gaslight assumes a life of its own. But are these things really happening, or are they part of Bella's tortured imagination? On a foggy evening, a mysterious visitor tells her tale of terror and murder, leading to a highly dramatic ending.
Drake University Theatre presents "Gaslight," a Victorian psychological thriller by Patrick Hamilton, at 8 p.m. March 8, 9 and 10 and at 2 p.m. March 10 and 11 in the Performing Arts Hall, Harmon Fine Arts Center, 25th Street and Carpenter Avenue. Tickets are $6 for the general public and $4 for students and senior citizens. They are available at the Drake Fine Arts Box Office, 515-271-3841.
After successful performances in London, "Gaslight" ran on Broadway for nearly four years in the 1940s. The 1944 movie of the play starred Oscar-winner Ingrid Bergman and the highly acclaimed Charles Boyer.
"Gaslight" is directed by Clive Elliott, Drake's Daniel B. Goldberg artist in residence of theatre arts. John Holman, associate professor of theatre arts, designed the scenery and lighting. Maureen Fitzgerald, a sophomore theatre tech and design major, designed authentic Victorian costumes. The play is produced by special arrangement with Samuel French Inc.
Elliott will discuss Drake's production at a pre-theatre talkabout dinner at 6 p.m. Saturday, March 10, in Levitt Hall in Old Main, 2507 University Ave. Tickets for the event, sponsored by Friends of Drake Arts, are $25 and cover the dinner, talk and performance at 8 pm. For reservations, call 515-271-3147.