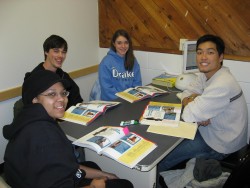 CONTACT:

Laura Wilcox, CIC, 202-466-7230, lwilcox@cic.nche.edu

Jan Marston, Drake University, 515-271-3814, jan.marston@drake.edu

Lisa Lacher, Drake University, 515-271-3119, lisa.lacher@drake.edu
The Council of Independent Colleges (CIC) has announced that the Los Angeles-based W.M. Keck Foundation has awarded CIC a grant of $360,000 to implement the Network for Effective Language Learning (NELL) in cooperation with Drake University. The program is designed to assist small and mid-sized private colleges and universities to transform their offerings in language instruction to meet the needs of the 21st century student. Jan Marston, founding director of the Drake University Language Acquisition Program (DULAP), will serve as project director.
CIC President Richard Ekman said, "There is a real crisis of modern foreign language teaching and learning on today's campuses. Language study is a much less common requirement on college campuses than it once was, few students attain fluency in a foreign language and the variety of languages offered in most institutions is very small. Critical languages such as Arabic and Chinese are frequently unavailable. NELL is a project at the heart of the international and intercultural dimension of a liberal arts education and is a part of CIC's recently increased emphasis on providing services that bolster the international competencies of its member institutions."



Twenty-four liberal arts colleges will be selected to participate in NELL over three years. Each year, four-person teams from eight institutions will attend a summer meeting that will introduce them to the core features of Drake's Language Acquisition Program, DULAP.
The program brings together a mentorship collective that includes professional linguists and learning specialists, experts in the target language and civilization, and native speaker tutors. Using internet-based resources and tools, DULAP students connect with real-life native speakers and writers while learning to use target-language materials written by and for native speakers. DULAP students produce an e-portfolio documenting their progress in the language, and external examiners provide an independent evaluation of student work. The program also emphasizes intercultural competence, and encourages all students who study a language to use it in an intensive immersion experience abroad.
During the summer meeting, the teams will explore ways to adapt DULAP's innovative teaching approach to the needs of their own campuses. After the summer workshops, institutions will engage in ongoing support activities. NELL consultants will visit campuses and continue to provide guidance. In addition, institutions will take part in an online community through a NELL website, which will become the core of a permanent alliance of institutions developing language-learning resources together and sharing best practices and materials.
"Drake University's role as an innovator in the development and application of alternative methods to enable students to acquire foreign languages is well established," said Drake President David Maxwell. "We look forward to sharing what we have learned with colleges and universities, and to learning ourselves from the successes of others. Together, CIC and Drake will work toward reversing a serious decline in our national capacity to understand other cultures through the functional use of their languages."
The first NELL workshop has been scheduled to take place July 9–13, 2007, at Drake. Subsequent workshops will be offered in the summers of 2008 and 2009. For more information on NELL, visit the CIC website at http://www.cic.edu/.



The Council of Independent Colleges is an association of more than 570 independent, liberal arts colleges and universities and higher education affiliates and organizations that work together to strengthen college and university leadership, sustain high-quality education, and enhance private higher education's contributions to society. To fulfill this mission, CIC provides its members with skills, tools and knowledge that address aspects of leadership, financial management and performance, academic quality and institutional visibility. The Council is headquartered at One Dupont Circle in Washington, D.C.
Based in Los Angeles, the W.M. Keck Foundation was established in 1954 by the late W.M. Keck, founder of the Superior Oil Company. The Foundation's grant making is focused primarily on pioneering efforts in the areas of medical research, science and engineering. The Foundation also maintains a Southern California Grant Program that provides support in the areas of civic and community services with a special emphasis on children and youth.
Drake University is a private institution recognized as one of the top master's universities in the United States, with more than 5,350 students from 45 states and 61 countries. Drake's mission is to provide an exceptional learning environment that prepares students for meaningful personal lives, professional accomplishments and responsible global citizenship. Through the innovative Drake University Language Acquisition Program, students currently are developing functional communicative competency in Arabic, Chinese, French, German, Italian, Hindi, Japanese, Russian and Spanish.