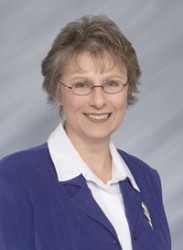 CONTACT: Lisa Lacher, 515-271-3119, lisa.lacher@drake.edu
Linda Krypel, associate professor of pharmacy practice at Drake University, is one of four individuals nationwide selected as a 2007 Fellow of the American Pharmacists Association by the APhA Academy of Pharmaceutical Research and Science.
APhA Fellows have a minimum of 10 years of professional experience and achievements in professional practice and have rendered outstanding service to the profession through activities in APhA and other organizations.
Krypel's appointment recognizes her service to APhA and her scholarly pursuits as an expert on nonprescription medications. She has been an active participant in the Nonprescription Medicines Academy since its inception, serving as coordinator of its steering committee for seven years. She also developed and edited the NMA Web page, which facilitates scholarship and educational excellence through the exchange of information and scholarly ideas among educators. In addition, she is the author of a chapter in APhA's Handbook of Nonprescription Drugs and has given numerous presentations at APhA's annual meetings and Self-Care Institute.
She will officially be recognized as a Fellow at the 2007 APhA annual meeting on March 17 in Atlanta.
Krypel earned her B.S. and Doctor of Pharmacy degrees at Drake and joined the Drake faculty in 1991. She was selected as Teacher of the Year in 2003-04 in Drake's College of Pharmacy and Health Sciences.
Rather than give formal lectures, Krypel engages her students in active learning to help them become critical thinkers and problem solvers. "I have always embraced the concept that faculty and students must work together to ensure positive educational outcomes just as pharmacists work together with their patients to ensure positive therapeutic outcomes," she said. "As the profession is trying to move pharmacists beyond the dispensing role, educators must act as role models and move beyond merely being dispensers of education."