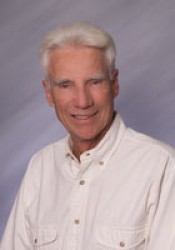 Scott Wood
Psychology professor Scott Wood, who taught and conducted research at Drake for 36 years, died of cancer Nov. 23 at Kavanagh House. He was 65.

"It is difficult to imagine this department operating without Scott Wood," said Steven Faux, chair of the Psychology Department. "We have suffered a great loss."

"As deeply saddened as we are by the loss of our colleague and friend it seems appropriate at this time to remember how he lived," Bill Klipec, associate professor of psychology, wrote in a statement prepared by the department for the memorial service, which was held Nov. 30.

"It is the job of a professor to profess," Klipec wrote. "To take positions, often extreme, and test their limits, and worth, by setting them forth for debate and discussion. Perhaps none of us did this as well as Scott.

"As one of B.F. Skinner's most devoted advocates, he not only professed the principles of behavior analysis, he lived by them and thus taught by example. He was a major force in the establishment of a graduate program in behavior analysis that put the Psychology Department at Drake on the map as one of the nation's best programs in that area of psychology.

"Well over 200 graduate students trained in that program now hold positions in agencies for the developmentally disabled, business and industry and education all over the United States. He was a prime mover in the establishment of the Association for Behavior Analysis that quickly moved from a regional meeting to become the most influential international organization in the field of behavior analysis. If we can take pride in the accomplishment of our students, Scott must be most proud of the impact his teaching has had on them and his visions have had on the field."

In addition to teaching, Wood conducted research on factors that lead to excessive gambling, and he recently served on the Advisory Committee to the Iowa Gambling Treatment Program.

Survivors include his wife, Dawn Moser of Urbandale; and three stepchildren, Isaac, Oliver and Claire Couture, of Iowa. Memorial contributions may be directed to the Anthony Westerhof Scholarship Fund in the Drake Psychology Department.