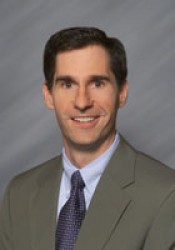 John P. Smith
John P. Smith, AS'92, GR'00, has been named the vice president of alumni and development at Drake University.

Smith began his Drake career in the admissions office in 1992 and climbed the ranks to the positions of associate director of alumni programs, gift planning officer and major gift officer. He served at Simpson College from 2001 to 2003 as assistant vice president/director of principal gifts, until returning to Drake as the director of development.

Amy Peters, LW'96, begins this month as the new director of gift planning. She succeeds Nancy Stefani, who has announced plans to retire.

Blake Campbell, GR'05, has also returned to Drake as senior advancement officer for the College of Arts and Sciences. Campbell previously served as advancement officer for development and assistant director of alumni and parent programs.

Diane Caldbeck, ED'72, continues as associate vice president of alumni and development with additional responsibilities related to the University's major gifts initiative and as the alumni and development liaison for Drake's Board of Trustees' Committee for a Greater Drake. She will also serve as a member of the Senior Advisory Council.

In addition, Pam Pepper has been named director of the annual fund. She previously worked at Drake in the annual fund office from 1992-95 before moving to Simpson College, where she was director of the annual fund and assistant vice president.