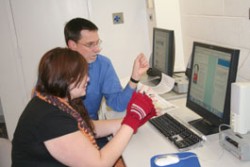 Professor Todd Evans helps Jo Hawxby, a sophomore from Urbandale, develop her blogspot for his Podcasting and Blogging course.
When Todd Evans, professor of electronic media, developed the syllabus for his Podcasting and Blogging course that premiered this fall, he didn't predict the virtual explosion of online video media — like Google's $1.65 billion acquisition of YouTube, for starters — that has since transpired.

Rather, Evans was inspired by last fall's launch of the video iPod, and he set out this semester to teach students about the related legal issues as well as the technical skills of creating podcasts and building blogs with sound, photo and video content.

"The idea was to get students blogging and see what they could do with it," Evans said. But with an ever-changing landscape of Web technology, the class has constantly evolved to keep up the pace. The dilemma that surfaces time and again, Evans said, is how to introduce new technology without compromising content. In other words, how do you cut through all the crap?

With that principle in mind, Evans and his students devoted themselves to staying on the pulse of new technology and, likewise, examining how people interact with the Web. Throughout the semester, they have critically evaluated various podsites and blogspots in addition to building their own. One student has even been able to cash in on advertising on his blog, which spurred an opportunity for the class to talk about ethics and copyright in terms of a real-world application.

"This class is much more than just podcasting and blogging, and that's why I find it extremely useful," said Ian Stewart, a junior from Westwood Hills, Kan. "I think the class should be called something like 'Advances in Web Technology' or something of that nature. It's important and valuable knowledge for our generation to have moving into the workplace."

Even so, the course's future at Drake is unclear. "It's pretty much outlived itself," Evans said. "It was a terrific stepping stone, and now it needs to be in every class we teach."