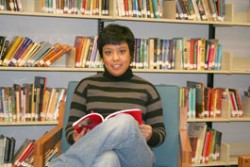 Val Campero studies in the Curriculum Library at the School of Education.
Val Campero, a single mother of three boys under the age of 8, has always wanted to be a teacher. She's making steady progress toward realizing her dream, thanks to the Teacher Quality Project developed by Drake, the Des Moines Public Schools and Des Moines Area Community College.

The program began last spring as a joint effort to increase the number of high-quality teachers of color in schools that enroll large numbers of low-income students who are from ethnic minority groups. Campero, 34, was one of the first students to join.

Students in the program agree to teach in Des Moines Public Schools upon receiving their Iowa teaching license. They commit to teach for one year for every year they receive a forgivable loan to finance their education through the Teacher Quality Project, which is funded by a $2.7 million federal grant. The program serves individuals like Campero who are seeking a master's degree, and prospective teachers seeking a bachelor's degree in education.

"Without this program, I wouldn't have been able to go back to school," Campero said. "There's a lot of support from the faculty and the advisers. They're more than advisers — they become friends."

Such support has helped to keep the dropout rate low. "We've only had two or three dropouts, which is amazing when you have a population of nontraditional students," said Eric Johnson, assistant professor and director of urban education. "Although we wrote the grant for 40 students, we now expect we'll have 50 graduate from the program. That will have a significant impact on the Des Moines Public Schools, where 34 percent of the students are minorities but only 5 percent of the teachers are minorities."