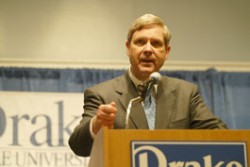 Presidential candidate Gov. Tom Vilsack gives the keynote address.
Iowa leaders in business, government and health care shared their views on Iowa's future during the Innovation and Leadership Conference at Drake on Friday, Nov. 17. Some 50 area professionals and academics participated as panel members and moderators, and 170 community members attended as participants.

Iowa Gov. Tom Vilsack gave the keynote address at the dinner that capped the all-day conference. He discussed creative initiatives that spawned from his administration, such as the redesign of Iowa's child welfare system, creation of the department of administrative services and the Vision Iowa program.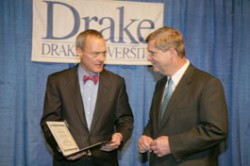 Dean Charlie Edwards presents the conference award to Gov. Tom Vilsack.
Vilsack, who recently launched his presidential campaign, accepted the conference award for his commitment to excellence in innovation and leadership.

Presented by the Drake University Center for Professional Studies, the conference featured panel discussions on a wide array of topics, including the impact of the Nov. 7 election on Iowa's future leadership. Other panels explored topics such as health care innovation, the role of government in economic development, renewable energy, Iowa's future workforce and innovations in community development and education.

"The conference — our first ever — provided a unique opportunity to showcase innovations in a one-day format accessible to our community," said Lance Noe, co-organizer and director of the Center for Professional Studies. "We were very pleased with the success of the event and plan to hold more conferences in the future."