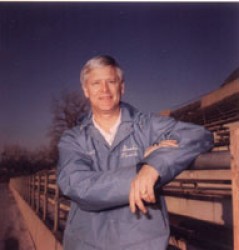 Bob Ehrhart
Bob Ehrhart, former director of Drake Relays, was named recipient of the Howard Schmertz Lifetime Achievement Award during the Awards Breakfast held Dec. 2 in conjunction with the 2006 USA Track and Field Annual Meeting in Indianapolis.

Ehrhart, who served as Drake Relays director from 1969-2000, was recognized for his contributions on and off the track.

He was a high school and college track and field coach for 34 years, including 31 seasons in the collegiate ranks. Before coming to Drake in 1969, he guided the track program at his alma mater, Northwestern University, for nine seasons.

During his tenure as director of Drake Relays, the number of events expanded from 49 in his first year to more than 100 events. In addition, the number of college teams and participants also more than tripled from 2,763 athletes in 1970 to a record 9,185 entries in 2000.

Under Ehrhart's coaching, Drake track and cross country teams won nine Missouri Valley Conference championships, including six in indoor track, two in cross country and one in outdoor track. No team in the history of the MVC has dominated the league's indoor track and field championships by winning those six team titles in a row.

Ehrhart also coached 23 NCAA All-Americans, 12 at Northwestern and 11 at Drake including 1970 NCAA decathlon champion Rick Wanamaker and standout sprinter Kevin Little, a two-time All-American at both the NCAA Indoor and Outdoor Championships in 1989 and 1990.