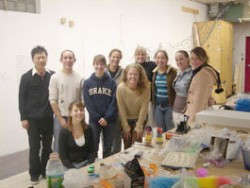 Drake art students learn from artist Shih-Chieh "CJ" Huang (left) at a weeklong workshop.
Earlier this semester, 10 Drake students from the department of art and design participated in a weeklong workshop, "Organic Bending," instructed by internationally acclaimed artist Shih-Chieh "CJ" Huang. The intensive, hands-on workshop took place Oct. 27 through Nov. 2 in Drake's Studio Arts Hall.

Huang transforms mundane, everyday items — such as household electronic devices and childhood toys — into dynamic, kinetic works of art. His robotic-but-organic installations are on display through Jan. 14 as part of the Des Moines Art Center's current exhibition, "Aisle 5."

"I don't think our students have experienced working with an artist like CJ previously," said Phillip Chen, associate professor of art and design. "He's very focused on looking for things that can be combined for particular kinds of motion, sounds and emissions of light. They're quite sensational, what he makes out of these ordinary things."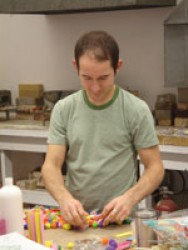 Chuck Korson, a sophomore from Ann Arbor, Mich., crafts a masterpiece out of pom-poms during "Organic Bending," a workshop sponsored by the Des Moines Art Center.
Huang organized the workshop "as an introduction to the process of deconstructing and reinventing the objects that surround us, where the final product serves as the beginning of future possibilities." Huang and the students started the week by going on a shopping spree — armed with $50 stipends each — for purchasing supplies at area discount stores like the Dollar Tree, Big Lots and Home Depot.

The final creations feature pop cans, toy soldiers, pom-poms and various other odds and ends. Huang encouraged the students to explore electronics as an artist medium, challenging them to incorporate at least one electronic component to their work. The students' final works spin, move and light up.

"I think that working with active artists is a great way to refresh your own ideas about art and art-making," said Tara Lange, a junior from Orion, Ill.
"I never knew how much you can learn from just taking things apart and rewiring them to make something unique and beautiful," added Ashley Machacek, a first-year student from Arvada, Colo.

The students' sculptures and installations were on display in the Adrienne and Charles Herbert Galleries of the Des Moines Art Center from Nov. 14-27.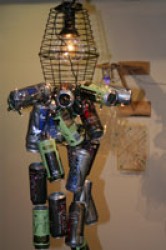 "Octopus, 2006" by students Miranda Quanstrum and Ashley Machacek, hung on display in November at the Des Moines Art Center.