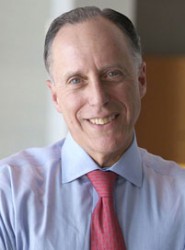 Lawrence K. Fish
Lawrence K. Fish, JO'66, attributes his alma mater with instilling in him a strong sense of conviction that helped launch his enormously successful career in business. Fish is chairman and CEO of Citizens Financial Group, the nation's eighth largest commercial bank-holding company.

To celebrate his Drake experience as well as commemorate his 15-year anniversary at Citizens Financial Group, Fish announced an agreement with Drake earlier this fall to offer the Lawrence K. Fish Scholarship, a $550,000 commitment to fund a full, four-year scholarship that he plans to offer every year.

"The time I spent at Drake prepared me to move forward in life with confidence," Fish said. "For some time now, I have been considering how to express my gratitude to my alma mater."

The scholarship includes Drake tuition, room and board and a $2,000 annual stipend. The award is eligible for a child of an employee of Citizens Financial Group who is pursuing a degree in journalism or business.

"I am doing this in order to provide a young person with an opportunity to attend this wonderful college with the luxury of being able to dedicate themselves fully to their education and time away at school, without financial worry," Fish said.

Under Fish's leadership, Citizens Bank has grown 25-fold, with more than 27,000 employees nationwide. Fish is a director of The Royal Bank of Scotland Group and Textron Inc. and a member of the Board of Trustees of The Brookings Institution in Washington, D.C. He also serves as a director of the Federal Reserve Bank of Boston and is on the board of trustees of Massachusetts Institute of Technology. Fish earned his MBA from the Harvard Graduate School of Business Administration.