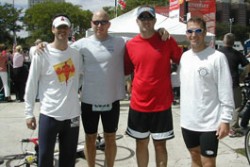 Bryan Ptak, JO'96, Nolan Mitchell, AS'95, Tom Phillips, JO'96, and Brandon Yez, JO'96, are enthusiastic triathletes.
Bryan Ptak, JO'96, and Nolan Mitchell, AS'95, are encouraging fellow alumni and friends to join Team Drake and participate in the International Triathlon Union / Hy-Vee World Cup Triathlon to be held in Des Moines on June 17, 2007. Des Moines is only the fourth U.S. city — in addition to Honolulu, New York and St. Petersburg, Fla. — to host a World Cup elite triathlon since the competition began.

The goal of Team Drake is to have as many Drake alumni and friends as possible gather for the weekend festivities. Whether you are a first-time participant or triathlon enthusiast, all are welcome to join Team Drake. "The great thing about triathlons is that it is you against the goals you set forth," Ptak said.

Interested individuals can contact Ptak at brptak@teksystems.com or 312-474-5562 and Mitchell at javascript:DeCryptX('0m0a3l3o3w0o3q3p1j0t2e1i2g2n1m3C3p3d1s0s0h1b0s3v0o3f0.3f1p2o') or 312-694-1681. For more information about the Hy-Vee Triathlon, check out http://hy-veetriathlon.com/. Ptak and Mitchell recommend signing up early to receive a discount.