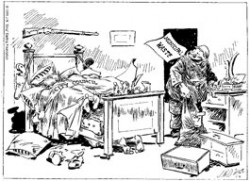 CONTACT: Lisa Lacher, 515-271-3119, "mailto:lisa.lacher@drake.edu"
Brian Duffy, the current editorial cartoonist at the Des Moines Register, will present a Live! @ Cowles Library event at 7 p.m. Wednesday, Jan. 31, in the Reading Room of Drake University's Cowles Library, 28th Street and University Avenue.
In addition, Cowles Library is currently displaying a comprehensive exhibition of renowned editorial cartoonist and conservationist J.N. "Ding" Darling's drawings.

Darling chronicled society's beat with some 15,000 cartoons that he produced between 1912 and 1962. His career began in 1906 as the cartoonist at the local newspaper — now the Des Moines Register — where he was given free rein editorially and artistically. Over the course of his career, Darling won two Pulitzer Prizes for his Register cartoons: "In Good Old USA" in 1924 and "What a Place For a Waste Paper Salvage Campaign" in 1943.
"The works of Ding Darling are essential to any basic understanding of the events that shaped the 20th century," said Rod Henshaw, dean of Cowles Library. "He took the editorial illustration to new heights, and in the process changed the way Americans look at themselves, their democracy and the world in general."

A traveling exhibit provided by the Ding Darling Foundation based in Key Biscayne, Fla., will showcase 43 full-size panels of his editorial cartoons and 22 reduced-size panels featuring his conservation cartoons to be displayed in the lobby's atrium and the James M. Collier Heritage Room.

In addition, a digital collection of the proofs of 6,800 Darling cartoons spanning 1912 to 1949 will be offered as part of the Drake Digital Heritage Collection, making the collection available online to the general public at www.lib.drake.edu/heritage. Cowles Library is one of only three institutions in the country to possess copyright privileges of Darling's work.