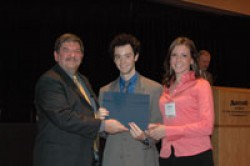 Evan Ball and Michelle Gombas accept their first-place award for their physiology and immunology research project.
CONTACT: Lisa Lacher, (515) 271-3119, lisa.lacher@drake.edu
Three Drake students received first place awards for outstanding scientific research presentations at the 2006 Sigma Xi Student Research Conference in Detroit, held November 3-4.
Evan Ball, a junior from Lenexa, Kan., and Michelle Gombas, a senior from Des Moines, received a cash award of $175 for a physiology and immunology research project, titled "Exposure to Genistein During Gestation and/or Lactation Induces Atypical Reproductive and Immune Development in Sprague-Dawley Rats."
Mary Caniglia, a senior from Council Bluffs, Iowa, also received a cash award of $175 for her ecology and evolutionary biology research presentation, titled "Effects of Genistein Exposure during Critical Time Periods on Maternal Behavior in Sprague Dawley Rats."
The students competed against both undergraduate and graduate students from 100 institutions at the conference.
"It was pretty competitive, and they performed really well," said Amy Wisniewski, assistant professor of biology. "Drake offers good opportunities for outstanding students, and our students compete and do very well when compared to other undergraduate and graduate students nationally."
Recognized at an awards ceremony, the students were presented a certificate and invitation to join Sigma Xi, The Scientific Research Society. Membership in the international honor society of science and engineering is by invitation only, based on research achievements or potential. Founded in 1886, the non-profit society has about 65,000 members and more than 500 chapters in North America and overseas.
Sigma Xi members attending the society's annual meeting in Detroit served as judges for poster and oral presentations. Student researchers also attended career advancement workshops and participated in mentoring and networking activities, panel discussions and lectures by leading scientists and recipients of annual Sigma Xi awards.