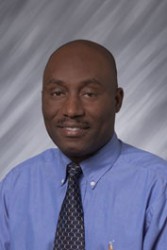 Jimmy Senteza
Ugandan-born Jimmy Senteza, Drake associate professor of finance, is organizing a course, "Sustainable Development in Africa," that involves a 21-day journey to Uganda that will examine globalization from the perspective of a sub-Saharan African country where the term can mean grinding poverty or opportunity.

Senteza has used his background and network of connections in Uganda to arrange an itinerary for the trip that includes visits with highly placed and accomplished government and business leaders, as well as excursions to health clinics to study the HIV/AIDS crisis, urban markets to examine Microfinance and entrepreneurship and the source of the Nile River and the Queen Elizabeth National Park, one of Africa's most spectacular game preserves, to explore tourism as a sustainable industry.

Senteza has spent two years organizing the trip and he hopes to offer it again in future years, potentially expanding to include visits to Kenya and Rwanda as well. Although targeted to Drake students, it's also being offered to university students nationwide, as well as to Drake alumni, business leaders and other adventurous travelers interested in getting an insider's access to a country Winston Churchill referred to as "The Pearl of Africa."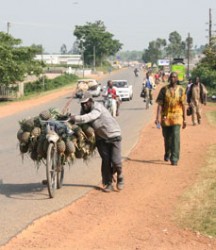 Students will meet business people and farmers, such as this pineapple trader.
The one lesson that Senteza hopes trip participants take away from his course is the realization that development and globalization has created extreme differences in living standards around the world. To drive that point home, participants will spend an entire day with a rural Ugandan family, who typically wake up, work in the fields, find sticks to cook their meals, and walk to their village for water that may or may not be safe to drink. Another trip to a health clinic will explore the HIV/AIDS crisis in Africa, with the director of Uganda's AIDS program in the health ministry.

"They will learn to appreciate what they really have and what development really means," Senteza said. "I think it will be a life-changing experience."