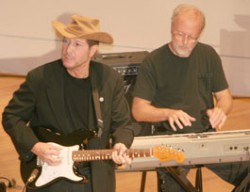 President Maxwell sports a cowboy hat as he performs with keyboardist Bruce Martin, professor emeritus of English.
Welcome to this issue's episode of "Lifestyles of a University President!"

This fall, we find Drake President David Maxwell venturing to Barcelona, Spain, as one of 30 invited participants from the United States, Canada and Europe for a Transatlantic Dialogue, hosted by the European University Association in collaboration with the American Council on Education and the Association of Canadian Colleges and Universities. The topic was "Access, Funding and Affordability." Maxwell moderated the session on strategic decision-making.

As if jet setting weren't enough for Drake's top Bulldog, Maxwell recently was named to the Board of Trustees of the Committee for Economic Development, a national independent, nonpartisan organization of business and education leaders dedicated to improving public policy through research and advocacy on major national and international issues.

CED is a trustee-directed organization based in Washington, D.C. CED's trustees are chairs, presidents and senior executives of major American corporations and university presidents. Trustees alone set CED's research agenda, develop policy recommendations and speak out for their adoption.

Maxwell will be working with university presidents of Columbia, Harvard and Vanderbilt as well as CEOs of companies such as FedEx Corp., Honeywell International and State Farm Insurance.

And just when one might think Maxwell's calendar is booked, he squeezes in one more gig: this time selecting one of his six guitars for a set with the Geezer Blues Band. Maxwell and the Geezers joined forces with a string of local CEOs performing in the "Take It From the Top" variety show Oct. 18 on the Jordan Stage in Sheslow Auditorium.

Maxwell played lead guitar with the Geezers, which included retired faculty member Bruce Martin and several students. Among alumni performing at the show were Doug Reichardt, BN'78, as a "Blues Brother"; Steve Berry, LA'83, LW'86, as emcee in his "Joey Libido" role and Martha Willits, FA'69, GR'72, GR'97, president of the Greater Des Moines Partnership, as pianist.

The run of events earned Maxwell a True Blue award from the All Staff Council Recognition Subcommittee. Now when he's calling around the world to make Drake connections, he uses a blue "Called to be True Blue" caller ID telephone. The phone was presented to Maxwell for his support of the All Staff Council programs.

"Called to be True Blue" awards are given to individuals and departments who practice excellence, learning, integrity, citizenship and/or fiscal responsibility.