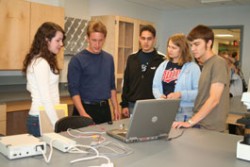 Biology Laboratory Assistant Doug Uhlman and students check out new equipment in one of Olin's renovated labs.
Drake science students will learn science as scientists practice their disciplines – through the process of experimentation and discovery, thanks to a new set of classrooms in Olin Hall dedicated this fall.

The classrooms eliminate the outdated model of a lecture course supported by a once-weekly lab and bring more active and participatory learning to biology and psychology students.

The $4 million project includes new labs for biology and psychology classes, new classrooms and offices and the renovation of the large lecture hall on the second floor. The new entrance and plaza are scheduled to be completed soon.

Lead gifts came from the Mary Wheatley estate and the Victoria Pewick estate while supporting gifts were received from the Roy G. Carver Charitable Trust and William Smith, LA'70.