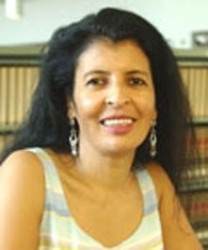 Penelope E. Andrews, who began her career as a receptionist in South Africa's first legal aid clinic, is now an internationally recognized expert on human rights.
Penelope E. Andrews, professor of law at the City University of New York School of Law, will give a lecture on the South African Constitution and its impact on women's equality vs. traditional cultures on Thursday, Nov. 9, at Drake Law School.

The event, which is free and open to the public as part of the Drake Constitutional Law Center's Distinguished Lecture Series, will start at 4 p.m. in room 213 of Cartwright Hall.

South Africa, which overcame the brutal racist legacy of apartheid to become a multi-racial democracy, now has a constitution that contains many provisions protecting basic human rights such as the right to privacy and freedom of expression. It also prohibits gender discrimination. Yet this protection is problematic because there are other parts of the constitution that protect the rights of indigenous people and their customary laws. This includes people living in traditional African tribal cultures and following tribal practices. Some of these practices, such as polygamy and genital mutilation, are not easily reconciled with equality for women.

Andrews will address certain aspects of these potentially conflicting values in her lecture, which is titled "Constitutional Embrace of Indigenous Values and Gender Equality in South Africa: a 'Marriage' Made in Heaven or One Headed for Divorce?"

This subject is of great importance because the United States is trying to help governments in Iraq and Afghanistan implement similar equality goals for women despite the existence of religious traditions in these countries that do not have a Western view of the role of women, said Mark Kende, director of the Drake Constitutional Law Center.

"This is one of the main problems with the war on terror that has created some resentment against the United States in the Islamic world — namely the idea that we are imposing our values on their traditions and cultures," Kende said. "Penelope Andrews' lecture addresses these same sorts of issues in the South African context and therefore may illuminate how we can deal with such concerns because South Africa has tried to honor both values — women's equality and traditional cultures."