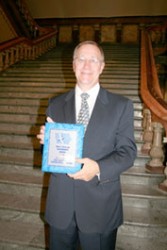 Robert Stensrud holds his award in the rotunda of the State Capitol.
Robert Stensrud, professor of education, recently received the Governor's Award – the state's highest honor given to an Iowan who is dedicated to enhancing the empowerment and employment of persons with disabilities.

Presenting the award in ceremony in the rotunda of the State Capitol on Oct. 6 were Dave Mills, master of ceremonies, and Joe Mowers of Gov. Vilsack's office. Mills noted that Stensrud's former students describe him as a champion who works quietly and diligently behind the scenes to change the system.

"They caution that Dr. Stensrud is the kind of man who will not be thrilled to receive this award," Mills added. "Since he came to Drake University in 1988, he has written and received grants to train professionals to work with people with disabilities. He brings millions of dollars into the state of Iowa and he mentors students, but not for his own glory. Dr. Stensrud needs to receive this award for exactly that reason. He has, quite literally, been the 'wind beneath the wings' of many of us working in the disability field in Iowa as well as across the country."

While the Iowa Commission of Persons with Disabilities is primarily interested in how Stensrud assists Iowans with disabilities, we also recognize his national and regional activities, Mills said.