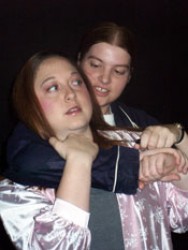 Tensions escalate as Holly Allen pulls a knife on Whitney Rhodes in Drake's production of "Sunday on the Rocks."
CONTACT: Lisa Lacher, 515-271-3119, lisa.lacher@drake.edu
Beginning Thursday, Dec. 7, Drake University Theatre will present "Sunday on the Rocks," a dark comedy written by Theresa Rebeck and student-directed by Avian Jangula, a senior theatre arts major from Minneapolis.
The play focuses on Elly, Gayle and Jen as they decide to have scotch for breakfast one morning, setting the scene for a day of dark revelations and unforeseen events. An unintended pregnancy, a creepy coworker and a controlling housemate are catalysts for a discussion of sex, morality and power in this darkly comedic work. The women explore the difficulties of making decisions for themselves and are left to wonder about the choices they have made. This play, which contains smoking and adult situations, is produced by special arrangement with Samuel French Inc.
Rebeck holds a Ph.D. in Victorian melodrama from Brandeis University. Her plays include "Spike Heels," "Loose Knit" and "DollHouse," a modern retelling of Henrik Ibsen's "A Doll's House." Rebeck's play "Omnium Gatherum," which she co-wrote with Alexandra Gersten-Vassilaros, was a finalist for the Pulitzer Prize. In addition to her work as a playwright, Rebeck has served a Hollywood scriptwriter and as a writer and producer for such television shows as "NYPD Blue" and "Law and Order: Criminal Intent."
Drake's production of "Sunday on the Rocks" will run for six performances Dec. 7-10 in Studio 55 of the Harmon Fine Arts Center, 25th Street and Carpenter Avenue. Showtimes are 8 p.m. Thursday through Sunday, with 2 p.m. matinees on Saturday and Sunday. Admission is free, but patrons are asked to reserve tickets in advance due to limited seating. Tickets may be obtained through the Drake Fine Arts Center Box Office at 515-271-3841.