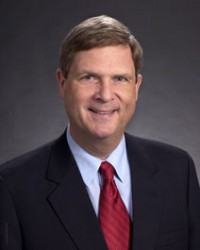 Gov. Tom Vilsack is scheduled as the keynote dinner speaker.
Iowa leaders in economics, government and health care will share their views on innovation, leadership and Iowa's future during an all-day conference on Friday, Nov. 17, at Drake University's Olmsted Center.

The conference, presented by the Drake University Center for Professional Studies, is designed for economic development professionals, elected and administrative leaders, business leaders impacted by public policy, students of public policy and administrators of public and nonprofit organizations.

Gov. Tom Vilsack is scheduled to give the keynote address at the dinner that will conclude the conference. The luncheon keynote speaker will be C. Kenneth Meyer, the Thomas F. Sheehan professor of public administration in Drake's College of Business and Public Administration. His speech is titled "Creating a Sustainable Society through Innovation and Leadership."

There will be various sessions featuring panel discussions on a wide array of topics, including the impact of the Nov. 7 election on Iowa's future leadership. That panel will include Mike Glover, political reporter for Associated Press, and O. Kay Henderson, news director of Radio Iowa.

Other panels will explore topics such as health care innovation, the role of government in economic development, renewable energy, Iowa's future workforce, innovations in community development and education, the role of nonprofits in tomorrow's society and charter agencies.

Invited speakers include Mollie Anderson, director of the Iowa Department of Administrative Services; Mike Blouin, director of the Iowa Department of Economic Development; Cynthia Eisenhower, chief of staff of Gov. Vilsack's Office; Gary Maynard, director of the Iowa Department of Corrections; Cindy Morton, administrator of the Internal Services Division of the Iowa Department of Revenue; Bill Nall, division administrator of Iowa Workforce Development; and Max Phillips, chief executive officer of Qwest and chair of the Iowa Business Council.

The cost for the conference is $50 per person and $40 per student. The registration fee covers access to all sessions, breakfast snack, lunch and dinner. For more information or to register, visit www.cbpa.drake.edu/cps or call 515-271-2592.