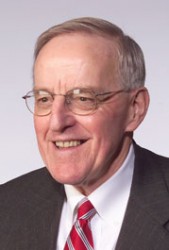 Donald V. Adams
Longtime Drake University administrator Donald V. Adams received the Crystal Apple Award for his accomplishments and dedication to education during an awards ceremony Friday, Oct. 27, at Michigan State University in East Lansing, Mich.

The Crystal Apple Award recognizes members of the education community, from kindergarten through the university level, who display excellence and commitment to the practice.

Adams was nominated by his former Drake colleague and friend Jim Votruba, president of Northern Kentucky University. "Don Adams has helped define the field of College Student Personnel Administrators over the past 40 years," Votruba said. "I want to honor Don Adams for both who he is, as well as what he's accomplished. In my entire career, I've never known a university leader who was more deeply loved and admired by students. He set the standard."

Adams graduated from MSU in 1960 with an M.A. from the College of Education and received his Ph.D. from MSU in 1965. He began his career at MSU while a graduate student, rose to director of residence halls and then moved to Drake University in 1969 as vice president for student life.

In his 37 years at Drake, Adams also has served as vice president of student life, vice president of enrollment, executive assistant to the president, secretary of the University and director of government relations. He is now senior counsel and 125th anniversary fellow.

Drake created the Donald V. Adams Spirit of Drake Award in his honor. It is presented annually to a faculty or staff member who exemplifies the spirit of Drake. In 2000 Adams reinforced his commitment to Drake by helping alumni create the Donald V. Adams Leadership Institute, a program based on Adams' values and ideals that helps students develop leadership skills and a strong commitment to community service.