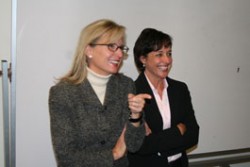 Melissa Weresh and Lisa Penland address the Google Generation.
Angry with your co-worker? Boss giving you a hard time? Resist the urge to vent your frustrations via e-mail or on your Web blog, or you might find yourself out of a job. Drake law professors Lisa Penland and Melissa Weresh recently taught the lost art of tact to 160 first-year law students at a workshop titled "Professionalism and the Google Generation: What Life on the Internet Left Behind."

Weresh, a professor of legal writing, said that ethical behavior is essential in the legal field. But, she added, professionalism transcends ethics: it's acting above and beyond a set of guidelines to protect your own reputation and that of the firm.

During the hour-long workshop, students read a chain of e-mails between fictional lawyers involved in a labor dispute. Some of the lawyers flung wild insults and drinking references, while others used formal grammar and a polite tone. Students discussed the appropriateness of the e-mails and their impressions of the lawyers.

Penland and Weresh decided to organize the workshop after they discovered law students had made inappropriate comments about faculty members on Facebook. They learned of these from a local judge who discovered them while researching law schools online with her daughter.

"Law students are less sophisticated than you might think," Penland said. "They don't realize that professionalism is not just about being nice and polite. It affects their credibility with judges, lawyers and clients, so it does ultimately impact their ability to be good lawyers and effective advocates."

Weresh and Lisa Penland recently were invited to share their presentation about professionalism and communication at the annual meeting of the Association of American Law Schools in January in Washington, D.C.