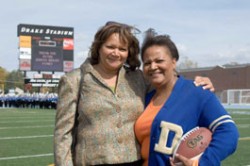 Deanie Bright-Johnson and Kandis Bright give each other a hug in front of the scoreboard that bears the name Johnny Bright Field.
Kandis Bright of Edmonton, Canada, donned her father's Drake University letter sweater from the early 1950s for the late-September dedication of Johnny Bright Field in the renovated Drake Stadium.

"I wanted to wear Drake colors, so I went through my father's things and found his letter sweater," she said. "It's in pretty good shape after all these years."

During the dedication ceremony that preceded Saturday's Homecoming game, Drake President David Maxwell said, "Today we are turning back the pages of the history books to honor a man who played for Drake in the years 1949 to 1951. Johnny Bright is the first — and to date only — Drake player inducted into the National Football Foundation College Football Hall of Fame.

Maxwell and Athletic Director Sandy Hatfield Clubb presented game balls to Kandis Bright and her sister, Deanie Bright-Johnson of Fort Wayne, Ind.

Also participating in the dedication ceremony were Deanie Bright-Johnson's husband, Cecil Johnson, and their daughters, Maura and Brea Johnson.

Leaders of the Des Moines branch of the NAACP presented a plaque to Drake President David Maxwell and Athletic Director Sandy Hatfield Clubb during Saturday's Homecoming game in recognition of the University's strong commitment to the achievement and advancement of African Americans. The plaque will be displayed permanently at Drake Stadium.

Participating in the ceremony were NAACP representatives Linda Carter-Lewis, branch president; Rev. Keith Ratliff, Sr., NAACP National board member and State Conference president; the Rev. Irv Lewis Sr.; Gretchen Woods; Arnold Woods Jr.; Russell Lovell, law professor and associate dean of Drake Law School; and Sean Ratliff, NAACP Youth Council member.

At halftime, members of the 1981 Bulldog football squad – which posted a 10-1 record – were recognized for the 25th anniversary of their achievements. The team was the first Division I club in Iowa to post a 10-win season and featured the late Amero Ware, the gifted running back who broke Johnny Bright's single-season rushing record as a member of the '81 Bulldogs.