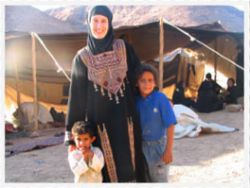 CONTACT: Lisa Lacher, 515-271-3119, lisa.lacher@drake.edu
Three students from Drake University won Fulbright awards in 2006-07 – putting Drake in third place among "top producing" master's institutions in the nation.
The Fulbright Program recently announced the complete list of colleges and universities that produced the most 2006-07 U.S. Fulbright Fellows. Drake was among the 14 master's universities listed, tying for third place in the group based on the number of Fulbright Fellows.
Of the four Drake students who applied last year, three were selected. Jessica Ernst is teaching English in Thailand, Linda Knoll is studying multinational business practices in Mexico and Brittany Buchholz is exploring Islamic principles governing reproductive health and adoption in Jordan.
"The Fulbright Awards for graduating seniors are a natural extension of our strong institutional commitment to global education," said Drake President David Maxwell. "The fact that so many of our students are receiving this highly competitive national award speaks highly not only of the students themselves, but of the Drake faculty who have guided them this far. We're very, very proud of what they've accomplished and of what our graduates will contribute as Fulbright Fellows."
The Fulbright competition is administered at Drake through Eleanor Zeff, Fulbright program adviser and associate professor of politics and international relations. Zeff said she enjoys working with such exceptional students each year and is especially proud of this year's three recipients. "They are fulfilling Drake's mission and becoming active citizens in a global context."
The Fulbright U.S. Student Program allows American students to study, conduct research and teach English in other nations. Full grants provide funding for round-trip travel, maintenance for one academic year, full or partial tuition and health and accident coverage. The program awards a total of approximately 1,300 grants every year and has provided more than 273,000 grants since its inception in 1946. This academic year, 40 American students received a new supplemental Fulbright Critical Language Enhancement Award, through which they are studying to become fluent in languages deemed critical under the National Security Language Initiative.
The Fulbright Program is sponsored by the United States Department of State, Bureau of Educational and Cultural Affairs. Financial support is provided by an annual appropriation from Congress to the Department of State, with significant contributions from participating governments and host institutions in the United States and abroad. The presidentially appointed J. William Fulbright Foreign Scholarship Board formulates policy guidelines and makes the final selection of all grantees.
For more information about the Fulbright Program, visit www.fulbrightonline.org/us. The list of "top producers" of U.S. Fulbright Fellows is posted on the Chronicle of Higher Education Web site.