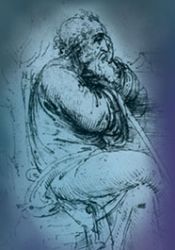 "Leonardo Dreams of His Flying Machine"
CONTACT: Lisa Lacher, 515-271-3119, lisa.lacher@drake.edu
The Drake Choir and Drake Women's Chorale invite you on a trip into dreams, visions and the spiritual with a free performance at 8 p.m., Sunday, Oct. 8, on the Jordan Stage at Sheslow Auditorium in Old Main, 2507 University Ave.
Conducted by Randal A. Buikema, the 56-member Drake Choir will perform pieces by Bach, Brahms, McClure, Hogan and Whitacre. The American Chorale Directors Association commissioned Eric Whitacre – a young, hip American composer – to compose his mini-opera "Leonardo Dreams of His Flying Machine" in 2004. There will be string, percussive and other accompaniments throughout.
"It's an eclectic repertoire that shows off the capabilities of this choir," Buikema said.
The Women's Chorale, conducted by Linda Vanderpool, will perform works by Giordano, Halmos, Nelson and Manuel. These include spiritual tracks, such as Halmos' "Ave Maria," and emotionally dynamic arrangements of folk songs in Nelson's "Three Mountain Ballads."