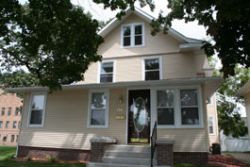 CONTACT: Professor David Courard-Hauri, 515-271-3812, david.courard-hauri@drake.edu;
Lisa Lacher, 515-271-3119, lisa.lacher@drake.edu
Drake University's "eco house" is opening its doors to six students this month. The house at 1161 26th St. will give students a chance to live in a setting that aids in making environmentally sound choices such as recycling, conserving water and electricity as well as composting and carpooling. Residents of the "eco house" also will organize an environmental project involving Drake's campus and neighborhood.
"I am greatly looking forward to living in this house," said Elizabeth Bales, a senior pharmacy student from West Bend, Wis. "I am not an environmental science major, but I am passionate about living smart and this house will help teach me new ways of doing that."
Students were selected to live in the house based on a variety of qualifications, including grades and campus involvement. "Students don't have to be environmental science majors to live in the house," said David Courard-Hauri, Drake associate professor of environmental science and faculty adviser for the house. "Students just have to show passion and desire to live in a unique setting like this."
The "eco house" previously housed the Drake ROTC program and was later used as office space for the University. The residence has since been completely renovated and furnished with a water-efficient dishwasher other energy-efficient appliances.
"I hope the presence of this house will help remind students to do the simple things that we've been taught," Bales said. "Everyone can always use a reminder to recycle, turn off the lights, conserve water and do simple actions like these."