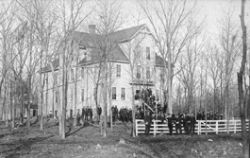 CONTACT: Daniel Finney, 515-271-2833, daniel.finney@drake.edu

To steal a line from the late Jim Croce, Drake University will celebrate its day at the Iowa State Fair in photographs and memories.

On Saturday, Aug. 12, Drake students, faculty and staff will host a history display in three giant tents along Rock Island Avenue near Pella Plaza at the Iowa State Fairgrounds.
In celebration of Drake's 125th anniversary, a miniature museum will create a time-tunnel taking Bulldog faithful and curious passersby on a journey from the University's earliest days in a forest miles from downtown Des Moines to the largest private university in Iowa.
Visitors may have their photos taken on one of three historic backgrounds – running in the 1961 Drake Relays with Wilma Rudolph, in front of an under-construction Old Main or in the commencement march of 1914.
Guests will receive a commemorative set of 10 postcards each showing historic images from Drake history.