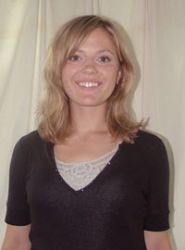 Lauren Mattern
CONTACT: Daniel Finney, 515-271-2833, daniel.finney@drake.edu
Lauren Mattern, 402-669-0051
This fall, Lauren Mattern will study at the school of her dreams, in pursuit of her dream career – and it won't cost her a dime.
The Jack Kent Cooke Foundation awarded Mattern, a recent Drake University politics and environmental policy graduate, a full-ride scholarship to the graduate school of her choice. She's the first candidate from Drake to receive the scholarship. Of nearly 1,100 applicants nationwide, only 77 were selected this year.
"Candidates are competing with America's elite institutions, and multiple candidates from their own institution – acceptance is a statistical improbability. But it happens for the individual who stands out among the rest," said Matt Esposito, Drake's representative for the Jack Kent Cooke Foundation and assistant professor of history.
Esposito said Mattern's mastery of the English language, near-perfect 3.96 grade-point average and focused career path made her an ideal candidate for the scholarship.
"We've only ever had two or three students who clearly qualified for the award," Esposito said. "Lauren was one of them."
The foundation will provide Mattern, a native of Omaha, Neb., with up to $50,000 every year for as many as five years of schooling. The foundation awards the scholarships based on financial need, demonstrated academic success and a dedication to improving our society.
"I'm feeling very, very lucky," Mattern said.
Mattern will study city planning at the University of Pennsylvania this fall. She says she's interested in "fighting urban sprawl – keeping cities vibrant and compact – and leaving a positive environmental and social legacy with how we build our cities and develop our land."
A few other schools had accepted her – including Georgia Tech, which offered her a full scholarship – but her dream was to attend Pennsylvania, where the financial aid offering measured only a small fraction of tuition.
"The very last day before I had to decide, I thought, 'This is what I've always wanted to do, this is my passion, so I'm just going to go for it,'" Mattern said of deciding on Penn.
Esposito organized a squad of Drake professors to assist Mattern in the application process.
The 10- to 12-page application called for eight essays. Mattern wrote them in the hectic month of her graduation.
"The application process was pretty rushed," Mattern said. "Professor Esposito really stuck his neck out for me. He was amazing throughout the whole process."
Amy Wisniewski, assistant professor of biology; Keith Summerville, assistant professor of environmental science; and Art Sanders, professor of politics also helped by proofreading essays, writing letters of recommendation and providing other support.
Mattern says the strong connections she built with Drake professors helped her succeed.
She will meet other scholarship recipients next month when they gather in Washington, D.C., for orientation Aug. 3-6.
"It's definitely the best thing that's happened to me. I'm just happy that my stars aligned," Mattern said.
The Jack Kent Cooke Foundation is a private, independent foundation established in 2000 by the estate of Jack Kent Cooke to help young people of exceptional promise reach their full potential through education. It focuses in particular on students with financial need. The foundation's programs include scholarships to undergraduate, graduate and high school students, and grants to organizations that serve high-achieving students with financial need.