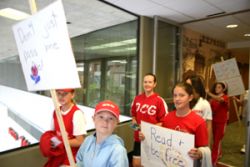 Students from Dallas Center-Grimes Middle School participate in last year's Walk for Adult Literacy.
CONTACT: Anne Murr, (515) 271-3982, anne.murr@drake.edu;
Lisa Lacher, (515) 271-3119, lisa.lacher@drake.edu

Des Moines-area residents are invited to join in the Walk for Adult Literacy on Saturday, May 20, at Merle Hay Mall. Funds raised by the walk will support volunteer tutors and their students at the Drake University Adult Literacy Center.
Participants will meet at the food court at 8:30 a.m. and begin the walk around the mall at 9 a.m. Following the walk, there will be a brief rally, where several of the 70 adults enrolled at the center will talk about their experiences.
"This walk is the center's only fundraiser," said Anne Murr, director of the center. "We're asking people to give so adults in our community can improve their reading and writing skills. Literacy changes lives. At the Drake University Adult Literacy Center, we invest in our community, one life at a time."
There is no registration fee for the walk. Participants may obtain a donation form by calling (515) 271-3982 or sending an e-mail message to adultliteracy@drake.edu. Donations and the form should be turned in at the walk. Checks may be made payable to Drake University Adult Literacy.
In addition to financial support, the Drake Adult Literacy Center needs more volunteer tutors. New volunteer tutors will be trained in three consecutive sessions set for 5:15 to 8 p.m. May 30, June 1 and June 6 at the center, 1213 25th St., adjacent to the Varsity Theater. New volunteers need to attend all three sessions. To register for the training, call (515) 271-3982 or send an e-mail