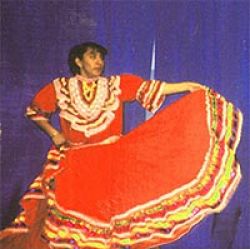 CONTACT: Lisa Lacher, (515) 271-3119, lisa.lacher@drake.edu
Drake University will celebrate the 116th anniversary of the Organization of American States with a Pan American Festival at noon Thursday, April 13, in Olmsted Center, 29th Street and University Avenue. The luncheon, which is open to the public, is designed to celebrate Latin culture and emphasize the important historical ties between North and South America.
A panel discussion, titled "From Here: The World is Possible," will explore topics such as the growing population of Latinos in Iowa, population projections for the state and the importance of preparing educators to work with students from diverse backgrounds.
Matthew Esposito, chair of the Drake history department, will moderate the discussion and the master of ceremonies will be Lorenzo Sandoval, professor of playwriting and communications at Des Moines Area Community College and Upper Iowa University.
The panelists will be Armando Villarreal, administrator of the Division of Latino Affairs of Iowa; David Skidmore, Drake professor of politics and international relations and director of the Drake Center for Global Citizenship; and Janet McMahill, dean of Drake's School of Education.
Hilda Prieto, Drake assistant professor emerita of Spanish, and her husband, Antonio, are the founders and organizers of the festival, which is sponsored by Drake's School of Education and Center for Global Citizenship, Dean of Students Office and the Division of Latino Affairs of Iowa.
The cost of the luncheon is $12 per person. Reservations are required and should be made as soon as possible. For information and reservations, call (515) 271-2835.
– 30 –