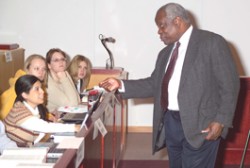 Justice Clarence Thomas interacts with students during his Supreme Court seminar.
United States Supreme Court Justice Clarence Thomas spent the week of Feb. 6-10 as distinguished jurist in residence at Drake Law School.
During his visit, he taught a Supreme Court seminar, met informally with students, faculty and staff and participated in a question-and-answer session with the entire Law School student body.
"Participating in a seminar with Justice Thomas has been an unforgettable experience," said Amber Rutledge, a second-year law student from Des Moines. "It was an amazing experience for students to challenge and be challenged by a Supreme Court justice."
"His approach to teaching the class was to critically analyze many of the major Supreme Court cases, from the adoption of the Constitution to very recent decisions," she added. "Usually, law students just memorize the cases. Instead, we questioned them in this class."
Brad Romig, a third-year law student from Phoenix, described the seminar with Justice Thomas as "the pinnacle of my law school experience," adding that "I was amazed with his kindness and humility along with his respect for the Constitution and his respect for his role as a Supreme Court justice."
The students also got a glimpse of the man behind the robe.
"For all his talk of how he and the other justices 'judge from an ivory palace,' he was one of the most modest, engaging and self-effacing people I have ever met," said Brent Smoyer, a second-year law student from Phillips, Neb. "Here is one of the most powerful people in American government, and he had the time to talk with us after class about everything from confirmation hearings to Nebraska football. You almost get the feeling he'd like to be a coach rather than a Supreme Court Justice, and yet he strives so hard to do his job well for the American people. I must say I truly admire and respect him for that."
Justice Thomas capped off his week at Drake by discussing the U.S. Judicial System with retirees who belong to Drake's RaySociety.